Avonmore Oat Drink will create new opportunities for Tirlán's growers
Avonmore has entered the plant-based drinks sector with the launch of Avonmore Oat Drink made from quality Irish oats grown on family farms across the east and south east area. 
Avonmore is one of Ireland's most trusted dairy brands for over 50 years and the launch of Avonmore Oat Drink offers even greater choice to its retail customers and consumers, as well enhanced premium crop opportunities for the farmer-owned cooperative's 1,100 Irish growers, many of whom have been supplying grain for generations. 
The launch of its new Oat offering will address consumers' desires for products in the plant-based space and further boost Avonmore's presence in consumers' shopping baskets.
 The new, plant-based offering is a source of fibre and is now available in Original or Barista options, with the Original high in calcium. Both are lactose-free and vegan friendly, low in fat with no added sugar. The organic oats used in the Barista option are traceable to organic oat farms operated by Tirlán's quality oats growers.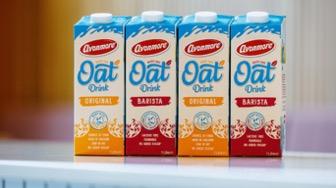 Dr Michelle Collins, R&D Director at Tirlán said: "We are dedicated to driving both dairy and plant-based innovation and offering an evolving portfolio of products and solutions for Irish and global markets. We continuously push the boundaries to improve our knowledge of nutrition and ingredients and deliver for our customers. 
"Collaboration is the engine of innovation, and that starts with our cross-functional teams. Our new Research & Innovation Centre is home to scientists, nutritionists, sensory specialists, development chefs and process technology experts who passionately research a growing number of dairy and plant-based ingredients. Through engagement with Tirlán's commercial team, we are committed to designing and developing quality ingredients, products and solutions that deliver nutritional and functional benefits for our customers across the globe."
John Kealy, Head of Grains at Tirlán, said: "We're passionate about grain and it shows in the high-quality produce that comes from our family farms. In Harvest 2022, we took in our highest ever volume of premium grains and delivered an additional €3 million in bonus payments to growers of premium crops, which include food grade oats. 
"We doubled our grain volumes in 2022 through our high-spec Oats Mill in Portlaoise. We have ambitions to continue to develop our milling capacity and extend our capability to take advantage of emerging market opportunities offered through plant-based innovation. This will ultimately translate into improving returns to our family farm suppliers well into the future."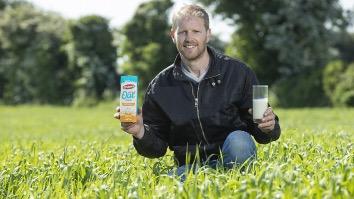 Pictured on the Tobin family farm in Urlingford, Co Kilkenny is organic oats grower, Robert Tobin.
Organic grower: 'We're proud to see our product in the Avonmore Oat drinks'
Robert Tobin farms with his father, Paddy, and grows 40 acres of organic oats for Tirlán in North Kilkenny. 
"It was my father who decided we would go organic. Our ground is in the centre of Johnstown," explained Robert, with the family also running an agricultural contracting business. 
"If we could get more ground we would definitely grow more organic oats. It's very heartening to see how Tirlán is innovating and adding value to our crop. It gives us a great sense of pride to know that our produce is going into the new oat drink and other products.
"We have always been oats users at home and we've been with Tirlán for the past few years. We have a very good agronomist, Tim Scott. He takes samples, gets them analysed and gives us great advice. He's always available to us and it's great to have him at the end of a phone. 
"With the demand for organic oats continuing to grow, we'd be delighted to supply more. But it's getting harder and harder to lease ground. It would be great to do back to back good years so we're hoping for the best for good quality, good prices and good yields for 2023."
The Tobin family also sow organic carrots, malting barley and some red clover which they rotate every two to three years. They used to grow oilseed rape and flaxseed but discontinued both.
Plan Ahead
"When you're growing organic crops you really have to plan ahead very carefully. Rotation is absolutely vital. We steerage hoe and sow it 11" apart and not so heavy so we have little or no weeds. 
"Farmyard manure is key, as is green cover which is ploughed back in. We typically sow in early March if possible. This year's crop was sown the last day in February. We were very lucky as many got caught out in a wet March.
"2018 was a disaster for oat growers. Last year was very good. We had good crops, great quality and a good price.  It's all down to the weather and price. May has been brilliant for the crop so fingers crossed now for a good Summer. All going well we would be hoping for over 2 tonne, maybe even 2.2 tonne. We don't want to push it too far."