Celebrating Pride at Tirlán
Throughout the month of June, Tirlán is celebrating Pride month and our 2,300 employees are coming together in solidarity, friendship and understanding to celebrate and raise awareness about the LGBTQ+ community.
Pride Month is dedicated to celebration and commemoration of lesbian, gay, bisexual, and transgender pride. It began after the Stonewall riots, a series of gay liberation protests in 1969, and has since spread from the United States across the world.
Michael O'Leary, Chief People, Organisational Design and D&I Officer, said: "Pride affords us an opportunity to reflect on difference and celebrate individuality by extending our Grá (Irish for "Love") to our friends, family and colleagues who are members of the LGBTQ+ community. It's also an opportunity to reflect and learn how we can make our workplace a more inclusive one, regardless of backgrounds or traits.
"In our recent Employee Engagement Survey, people overwhelmingly said they feel comfortable being themselves in work. In fact, this feedback was second only to people feeling safe at their workplace. 
"We should celebrate progress made but ensure that those who don't share these sentiments truly begin to experience positive change so they too can feel comfortable being themselves."
Pride flags are flying at Tirlán sites across Ireland and employees are invited to engage with education and celebration opportunities taking place to showcase the solidarity, friendship and understanding of the diverse nature of everyone who works at Tirlán.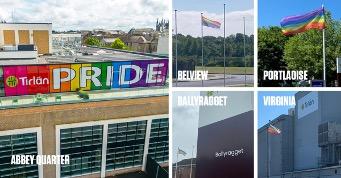 Guest speakers will enlighten employees throughout the month and bitesize education pieces will be shared across June and in the coming months, focusing on areas such as LGBTQ+ Inclusion, outing and gender binary.
"Our Tirlán values clearly call out the standards we have set for ourselves and the type of culture we want in our workplace," Michael O'Leary concluded.