Fuelling our Sports Stars
Investing in our local sports stars, our county champions and our national sporting heroes is a perfect fit for Glanbia Ireland. As a food and nutrition company passionate about healthy lifestyles, our support and promotion of physical and mental well-being at all levels is at the core of our mission.
Glanbia Ireland provides support for a number of sports teams across our catchment area, including an involvement with the GAA and camogie county teams in Laois, Kilkenny and Waterford.
Since the 1970s, the Kilkenny Senior Hurlers, dubbed 'The Cats', have been thriving on Avonmore milk in an enduring partnership between one of the country's top teams and Ireland's No. 1 fresh milk and cream brand. Glanbia are proud that the Kilkenny senior hurling team continues to sport the Avonmore logo on their famous black and amber jerseys.
We are also sponsors of Kilkenny county-level football, camogie and hurling teams from Under 14 through to senior. The teams carry the Avonmore milk logo on their jerseys, while all leisurewear, including tracksuits, polos, windcheaters and kit bags, carry the Glanbia logo.
Speaking about the importance of the relationship between the Glanbia and Gaelic games, Brian Phelan, CEO at Glanbia Nutritionals, said "Glanbia has nutrition at the heart of everything we do and our commitment to GAA complements our purpose."

Women's Sports
Glanbia's commitment to women's sports is also deeply appreciated by those involved, according to Sheila Norris, Chairperson of Kilkenny Camogie: "Having Glanbia as the main sponsor of our inter-county teams gives huge credibility to us as a sports organisation."
All Sport is Local
At grassroots level and among their communities, our local operations and branches are to the fore in the sponsorship and funding of club teams, tournaments and playing facilities across the Glanbia catchment area.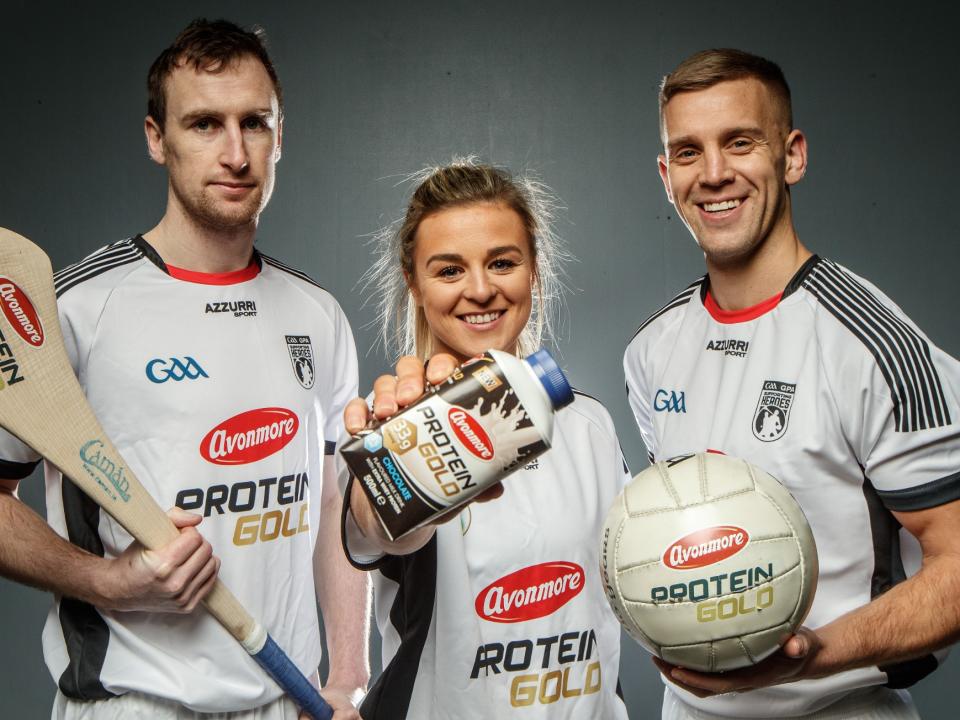 Avonmore Protein Milk driving the GPA
In an exciting partnership, Glanbia Ireland's Avonmore Protein Milk teamed up with the Gaelic Players Association (GPA), which represents those taking part in Ireland's national games, in a decade-long revenue-share agreement that will see a percentage of all sales going towards the GPA Player Development Programme, supported by the GAA. This Programme assists county players in critical areas of their off-field lives including education, career and personal development, health and well-being.
Laois
Glanbia Ireland are generous sponsors of Laois county footballers and hurlers who have been causing a stir in recent years.
GAIN & Gaelic
GAIN Animal Nutrition, as part of the Glanbia Ireland family of brands, is also a generous supporter of Gaelic Games, having been the main sponsor of Wexford hurling and football teams in recent years.

GAIN & Equestrian
The GAIN Animal Nutrition brand has been associated with excellence in the equestrian field for decades.
Our GAIN Equine Nutrition team provide strong support of the Irish thoroughbred horses and racing sector through race sponsorship at the Curragh Racecourse. We have sponsored the GAIN Railway Stakes on Derby Day and prior to that the world-renowned Irish St. Leger. 
For 2020, we are sponsoring the GAIN First Flier Stakes being held on Derby Day, alongside the GAIN Railway Stakes taking place on Oaks Day.
GAIN Equine Nutrition hit global equestrian headlines this spring when it was selected as Official Equine Nutrition Partner in the richest horse racing event in the world, the Saudi Cup 2020. The inaugural seven-race event, with a staggering prize fund of €26.70 million, took place at the King Abdulaziz Racetrack, Riyadh in February.
But to equal the international excellence, substantial local prestige attaches to the GAIN Point-to-Point series fought out in countrywide qualifiers, with the finals attracting huge interest in Ballynoe in East Cork. The GAIN brand also features strongly as a sponsor for show-jumping, eventing and agricultural shows.