Our Open Source™ code
Glanbia Ireland is deeply committed to sustainability from farm to finished product. We want to ensure that our dairy suppliers have the capability to produce milk that meets the environmental and economic best practice standards expected by our customers. To enable and encourage sustainable milk production we have developed the Open Source™ Programme.
It is our sustainability and quality assurance code that seeks to protect, enhance and promote the integrity of our products from primary producer to end user.  
Why Open?
Because our core competitive advantage is sustainable dairy production from cows kept in 'open' pastures, naturally fed on nutritionally rich, rain-fed grass.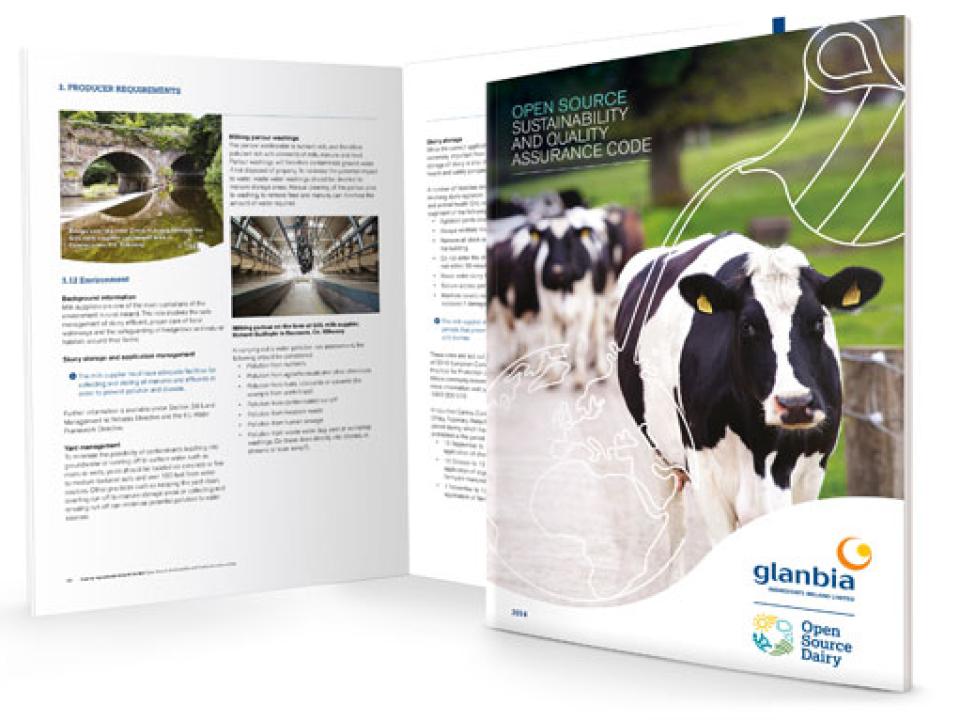 Why Source?
It is a blueprint for quality dairy production designed to sustainably release from its 'source' the value of Ireland's low-cost, rain-nourished, grass-fed milk production system in order to meet increasing global demand for clean, safe, high-quality dairy ingredients.
Under our Open Source® Sustainability and Quality Assurance code, Glanbia Ireland sustainability team works closely with our farmers, placing a strong focus on areas, including:
Milk quality
Animal health and welfare
Soil and grassland management
Energy efficiency
Carbon emissions
Water usage
Waste management
Biodiversity
Health and safety at farms
Grass-based
Grasslands comprise 80% of Ireland's agricultural land, with an annual grass growth rate that exceeds the European average by more than a third.
Our moderate climate results in a grass-based production system that is the most cost-effective, environmentally friendly and efficient way to feed dairy herds and at Glanbia Ireland we safeguard its integrity at every step.
We understand the importance of soil health and the difference great grassland management can make to our milk suppliers' profitability. In that regard we have developed, in conjunction with skilled farmers, Nutrient Management Plans (NMPs). These maximise grass production from the land, which in turn helps to nurture the healthiest herds that produce the highest-quality milk.
Independent audits
Glanbia Ireland is proud be to a founding member of Origin Green. This is the Irish National Food sustainability Programme introduced by Bord Bia, the Irish Food Board.
Bord Bia independently audit and certify our suppliers dairy holding and farm practices in line with current EU and national legislation and customer requirements, as well as monitoring sustainability credentials for each of our farmers. This ensures the independence and impartiality of the scheme for suppliers and customers. The Sustainability Dairy Assurance Scheme (SDAS) is fully accredited by the Irish National Accreditation Board (INAB). Under the scheme, each supplier is audited and certified by Bord Bia and the farm is audited every 18 months.
Our suppliers, with the support of our Milk Quality & Sustainability Managers, take part in the Open Source Sustainability and Quality Assurance Programme (Open Source Programme).
We also employ our own in-house veterinarian team who have developed a Glanbia Ireland-specific herd health programme. Together with advisory and animal welfare programmes, this places the health and welfare of our animals at the forefront. These factors offer complete traceability for our customers, with a clear audit trail from the farm, to our processing plants, to the end product.
Combined with Ireland's natural environment, this focus on sustainability through the Glanbia Ireland Open Source™ Programme sets us apart from other dairy companies internationally.