Tirlán Announces 2022 Annual Results
Tirlán (formerly Glanbia Ireland and Glanbia Co-op), Ireland's largest farmer-owned food and nutrition business, has today announced its first Annual Report and Accounts for 2022 showing a revenue rise of 36% to €3 billion, primarily driven by strong ingredient sales internationally. 
Key highlights: 
Tirlán delivered operating profits of €71.9 million and Profit After Tax (PAT) of €44.6 million;

Over 423,000 tonnes of dairy products and ingredient solutions were sold into 100 markets;

Over €2 billion paid to more than 5,000 Irish farm families with record prices for milk and grain;

Record farmgate prices saw an average of 63 cpl (incl VAT) paid for milk, with green feed barley reaching €310 tonne. However prices were mirrored by a sharp rise in farm input costs, with significant increases in energy, fertiliser and feed;

€168 million spin-out of Glanbia plc shares to over 11,000 Tirlán Co-op Members;

Broad range of employment opportunities, with recruitment underway for over 130 positions;

Ambitious 'Living Proof' sustainability targets at core of Tirlán's future plans.
Speaking about the report and results, Tirlán Chairman John Murphy said that 2022 was a milestone year for the co-operative business, its farmer Members and over 2,300 employees as it transitioned to a 100% farmer-owned business and unveiled its new identity. 
John Murphy commented, "We are very pleased that in Tirlán's first year of operation we have delivered record milk and grain prices. 2022 was a remarkable year, as we returned strong financial results whilst navigating a steady path through unprecedented volatility and sharp inflationary increases in the cost of inputs at every stage of the supply chain. 
"Following our successful launch, Tirlán is firmly established, and operating as a fully farmer-owned business which gives us flexibility to continue to support our farmers while maintaining robust financial discipline. In 2022, our Members benefitted from a spin-out of around 12 million Glanbia plc shares, distributing a total value of €168 million. In addition, a dividend of over €6.5 million was paid to our farmer Members.
"We are hugely ambitious for the future of our Co-op. As always, we will face challenges, but we are determined to work hard to continue to deliver for the benefit of our Members and all our stakeholders."
Tirlán recently marked a year since the transaction was completed to acquire the remaining 40% of Glanbia Ireland from Glanbia plc to create a 100% farmer-owned operating co-operative. It was the largest acquisition by an indigenous Irish company in 2022. In August 2022, the Co-op launched its new identity Tirlán which signifies a 'land of abundance'.
2022 Operating Performance
Key Performance Indicators
2022
Percentage Increase 

Revenue

Breakdown 

Ingredients Category 

Agribusiness Category 

Consumer Category

€3.06 billion

 

€2.1 billion

€644 million

€365 million

36%

EBITDA

€116.3 million

21%

Operating Profit 

€71.9 million (OP Margin 2.35%)

43%

Profit After Tax 

€44.6 million (PAT Margin 1.5%)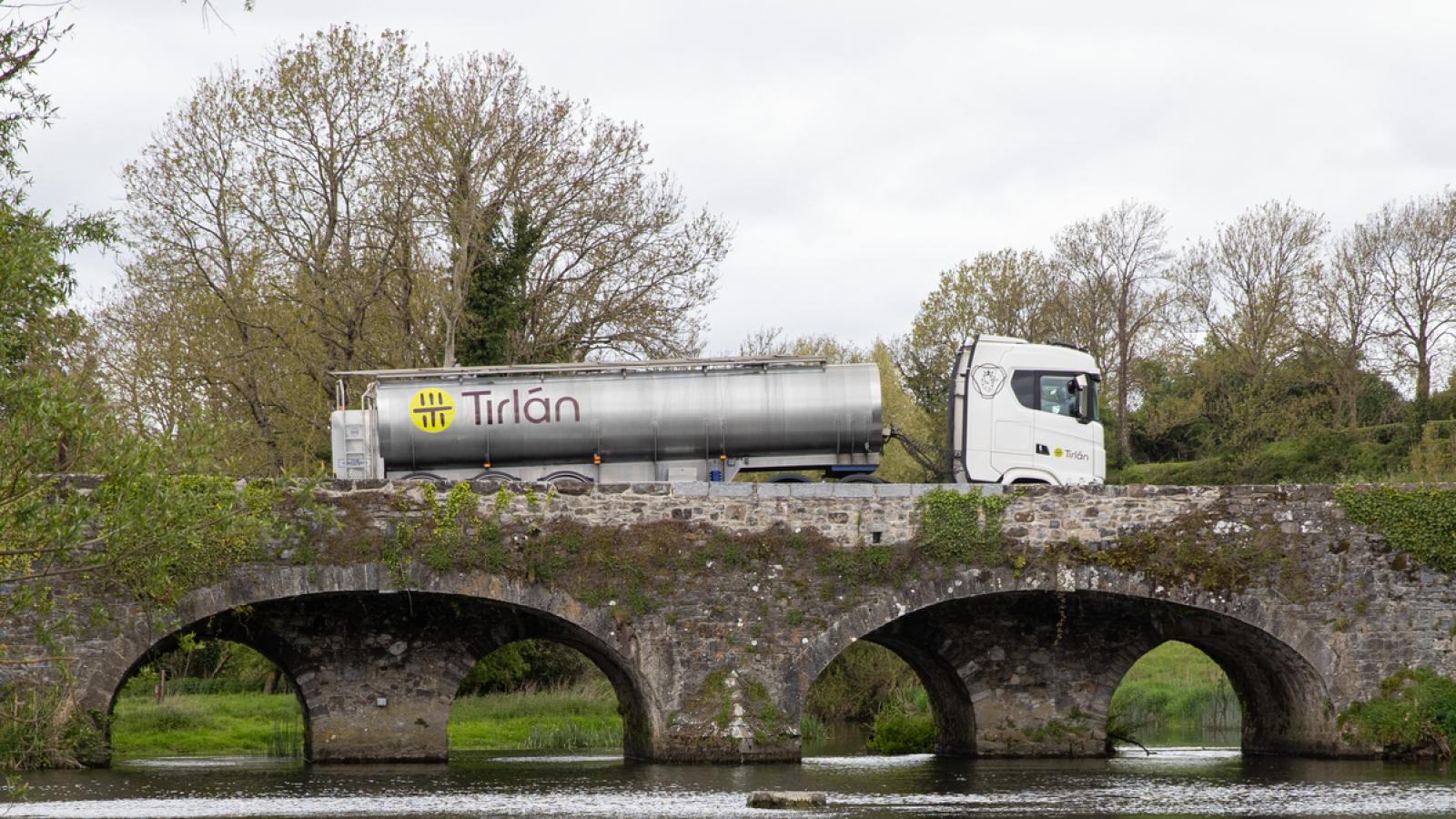 The business operates across three categories - Agribusiness, Consumer and Ingredients - and now sells into more than 100 markets worldwide.
Ingredients 
The Ingredients category recorded an excellent commercial performance, delivering €2.1 billion of revenue, capitalising on global highs in dairy markets throughout much of 2022. It recorded sales of 423,000 tonnes of dairy products and ingredient solutions, with a strong focus on tailored ingredient applications and expansion of its plant-based range.
Agribusiness 
Agribusiness achieved sales of €644 million, with over 491,000 tonnes of feed sold and an exceptionally strong performance across our 52 branch network and field sales team. An €11 million investment is underway to upgrade our agri-branch network. 
In line with the marketplace, fertiliser sales volumes were down by 20% on the previous year, driven by high raw material costs and supply chain challenges. 
As the largest buyer and user of Irish grains, Tirlán paid farmer Members over €100 million with an excellent harvest boosting intake to 290,000 tonnes. A focus on a specialised premium grains portfolio delivered over €3 million in premium payments to growers.
Consumer
The domestic and international consumer category, which includes award-winning brands such Avonmore, Kilmeaden, Wexford, Premier, MyMilkman.ie and Truly Grass Fed, delivered €365 million of turnover in a challenging marketplace. A significant restructuring took place in 2022 to put the consumer category on a more solid footing with a firm focus on digital innovation.
The consumer category continues to focus on new product development, with the recent launch of Avonmore Fibre Plus Milk and a new plant-based range of Avonmore Oat drinks. In the international market, the Avonmore Professional range of UHT cream continues to win new customers in south-east Asia, with a particular focus on China and Vietnam.
2022 Tirlán Co-op Highlights - Delivering for our Members
| | |
| --- | --- |
| Key Highlights  | 2022 |
| Year-end equity value of Tirlán Co-op  | €1.2 billion  |
| Percentage shareholding in Glanbia plc   | 28%* |
| Value of Glanbia plc Shares spun-out to Members  | €168 million** |
| Total share interest (dividend) paid to Members in 2022 | €6.5 million |
| Proposed share interest (dividend) payment per share for 2023 | 19.058 cent per share (+10% increase) |
*As of 10th May 2023. 
**Based on a Glanbia plc closing share price of €13.99 on 5th May 2023. 
In September 2022, Tirlán Co-op Members benefitted from a spin-out of 12 million shares in Glanbia plc which returned €168 million in value to Members. In addition, over €6.5 million was paid in Share Interest (dividends). 
The Co-op has a balance sheet value of €1.2 billion at year-end, with a significant portfolio of investments including the largest single shareholding in Glanbia plc at 28%.
Tirlán CEO Jim Bergin commented, "We are pleased to have delivered an excellent performance in our first year where we focused on building a strong independent organisation, with best-in-class governance structures and strong financial disciplines. The result is a vibrant organisation with 2,300 committed employees and over 5,000 dedicated farm families at its core.
"I want to thank them for their contributions and know that by working together we can achieve even more in the years ahead. 
"While 2023 is proving challenging to date with a significant reduction in dairy market returns, combined with high farm input costs and supply chain inflation, we believe our Co-op is well-positioned to navigate these challenges and support our farmer Members.
"We are on track with the construction of our €200 million continental cheese facility in south Kilkenny with our partners Royal A-Ware. This exciting project provides Tirlán with new technologies and immediate access to new scale markets for 50,000 tonnes of continental cheese. 
"As a significant economic driver and employer in the south-east region, Tirlán is currently recruiting for over 130 positions, in addition to up to 40 graduate positions."
Highlighting the economic contribution of dairy farming to rural communities, Jim Bergin said that in 2022, over €1.9 billion was paid to farm families for milk in 2022. Over €345 million was paid by Tirlán to farm families in Co Kilkenny, €283m in Co Waterford and €244m in Co Tipperary – close to €900 million across just three counties. The payments demonstrate the huge importance of the co-operative as a major economic driver of the rural economy.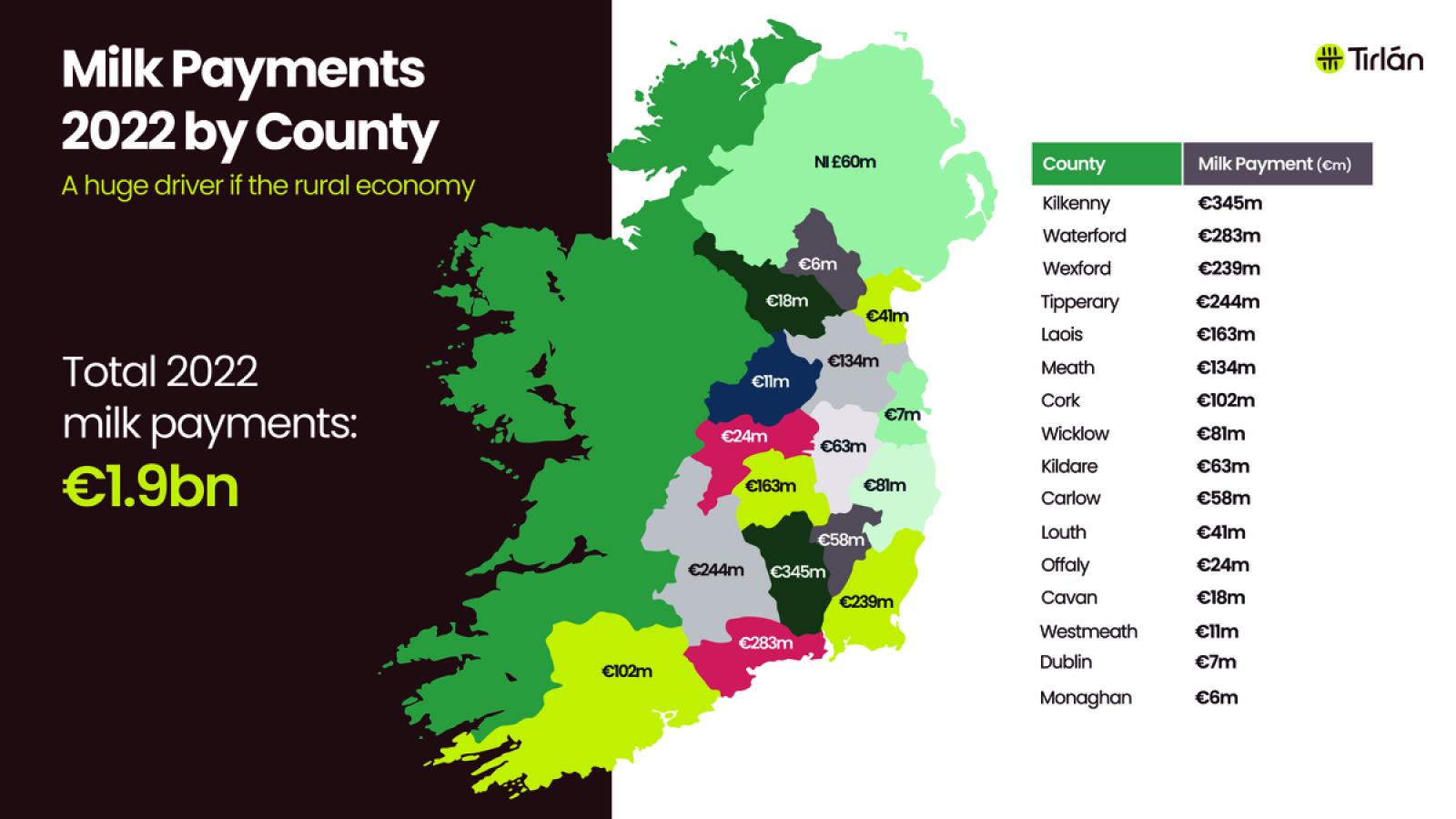 Tirlán launched a new five-year strategy 'Nourishing Ambition' with a focus on adding value to its milk and grain pool. The organisation is continuing to enhance its innovation capabilities through its new €15 million Innovation Centre and is assessing strategic opportunities for its €150 million Investment Fund.
Living Proof sustainability strategy
Looking to the future, Tirlán's Living Proof sustainability strategy is at the core of the organisation's future. 
Chief ESG Officer, Dr Lisa Koep, said that Tirlán's Living Proof sustainability strategy provides a clear roadmap as the business continues to work together with its farmers to further enhance sustainability across the supply chain and assess renewable energy opportunities. 
In 2022, Tirlán launched a €54 million three-year Sustainability Action Payment programme which has seen farmers embrace new sustainability technologies;

Over 115 PV Solar packages have now been installed through the FarmGen renewable energy programme;

Over 450 water quality management plans were completed on farms through the team of water quality advisors; 

Over 146,000 trees and hedgerows were supplied as part of the Operation Biodiversity programme.
 As a result of strong sustainability actions, the average carbon footprint for Tirlán milk suppliers in 2022* was 0.91kg CO2 equivalent per kg of milk, a 7% reduction since 2018. Dr Koep commented, "Our targets will be rigorously monitored to ensure delivery as we aim to continue to deliver sustainable value for all our stakeholders."
*Across a three-year average