Twenty20 Beef Club receives Innovation award in Brussels
Glanbia Co-op celebrated with other Co-operatives from across Europe at an awards ceremony to mark interesting and groundbreaking innovations.
Almost 150 representatives of European agri-cooperatives gathered in Brussels for the award ceremony of the six winners of the 5th European Award for Cooperative Innovation, organised by Cogeca and sponsored by the Spanish cooperative bank Cajamar Caja Rural.
The edition saw more than 100 applications showcasing many interesting and groundbreaking innovations that deliver value under the economic, social and environmental pillars of sustainability. 
Glanbia Co-op's Twenty20 Beef Club was recognised by Cogeca under the 'Economic Value Creation' category.
At the ceremony in Brussels, Ramon Armengol, Cogeca President congratulated the winners and all applicants.
The  number  and  the  quality  of submissions  from  across  Europe  confirm  that  agricultural transitions  are already underway in all domains, driven by the cooperative enterprises. A proof that for agri-cooperatives business as usual is cultivating innovation and finding ways to create value for its members and communities.
Glanbia Ireland's Head of Beef, Martin Ryan said the fully integrated calf to beef programme between Glanbia Ireland, Kepak Group and their respective farmer suppliers improves the economic, environmental and social sustainability of calf to beef systems. Mr Ryan highlighted the data from the 2021 processing, emphasising the sustainability credentials exhibited.
Over the past six months, Twenty20 Beef Club members have benefitted from a Club Premium of €0.25/Kg on top of the Average Quoted Price (AQP) in the market on all cattle that met the Club's specification. This payment is in addition to other bonuses, such as breed, protocol/quality and a seasonality bonus and is paid irrespective of the level of the AQP. The Club has also added a €0.10/Kg bonus on cull cows.
"A key achievement noted was the reduction in slaughter age, relative to the National average for similar cattle. The average age at slaughter was 23.7 months and 21.8 months for steers and heifers respectively and this alone would significantly reduce the carbon footprint of Twenty20 beef," Mr Ryan explained.
Mr Armengol said the 5th edition of the awards was a special one as it was launched at the beginning of the pandemic.
"At the beginning of a crisis that has required our enterprises to continue to adjust their business model. Great innovate efforts had been put in place to ensure food security, readjust the mechanisms of the value chain, remain competitive on the market, and address the arising needs of consumers and our food chain partners," he said.
"Once again our cooperatives have demonstrated their resilience, their capacity and their commitment. Today we are facing a new crisis with the conflict in Ukraine and the impact on the markets and we need to strengthen this resilience even further by cooperating and innovating.
"I am particularly proud to see that many cooperatives are already engaging in delivering results in support of the aspirational targets that we committed to with Copa and Cogeca's signature of the EU Code of Conduct on Responsible Food Business and Marketing Practices, which is one of the first deliverables of the Farm to Fork Strategy and an integral part of its action plan."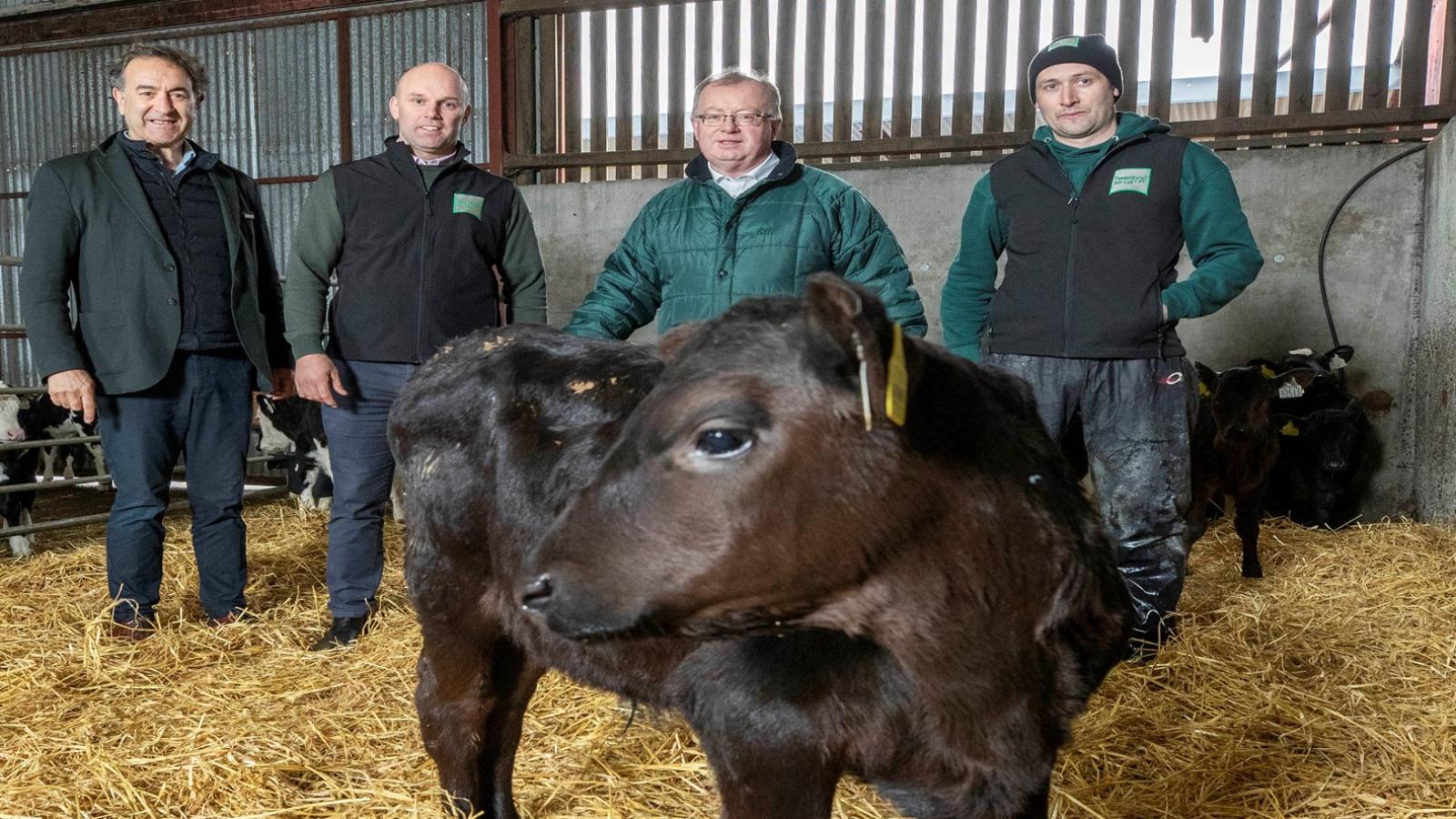 Ramon Armengol, President of Brussels-based Cogeca, visited Dara Walton's family farm in Kilkenny this week to see first-hand how the dairy calf to beef programme works. Included are, from left: Ramon Armengol, President of Cogeca; Jonathan Forbes, Kepak; Martin Ryan, Glanbia Ireland Head of Beef, Equine and Pet and Dara Walton, Twenty20 Beef Club participant.